The exercise system to restore balanced health and wellbeing. Suitable for anyone of any age.
Your first session is FREE – feel free to drop in to a class or leave your email details to be sent more information
Welcome to the Jade Dragon School – the biggest tai chi school in Berkshire with around 150 happy students.
Do you have limited mobility?
Are you full of tension?
Do you lack energy and vitality?
If you can answer yes to any of the above questions then tai chi could be the answer you're looking for.
Gain strength and mobility
Learn to relax fully
Calm your mind and regain healthy balance
I'm Paul Chapman and I've been studying tai chi for nearly forty years. I've personally taught well over a thousand students to be happier, healthier, stronger and more relaxed.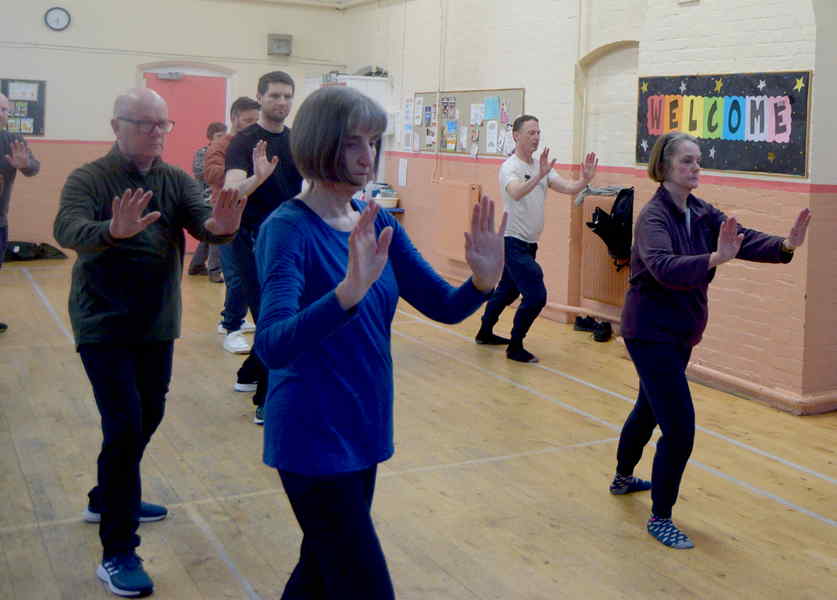 Thoroughly enjoying a re-acquaintance with Tai Chi having tried it at University a few decades ago, before getting caught up in a busy life as an NHS GP! My previous classes focussed on the Tai Chi form only, but Paul brings a huge additional dimension to the practice; he is clearly extremely knowledgeable regarding the wisdom and philosophy of Tai Chi, and of human anatomy, balance and the breath, bringing Tai Chi to life and making it so pertinent and relevant to coping with the challenges of modern life in our fraught western society!
Paul makes Tai Chi fun and accessible to all. If you're at all interested in the practice and art of Tai Chi, I'd highly recommend Paul and his classes as a great way to start!
— Andrew B
Jade Dragon Tai Chi is one of the best Tai Chi classes I have attended. Paul takes his time to show and explain every move and there is no rush during his class. Good for balance and memory for all ages. A worthwhile and rewarding class and of great benefit to a relaxing lifestyle.
— C Needham
Tai chi teaches you how to use your body, mind and breath more efficiently.
Our classes focus on your posture, breathing, mental focus and so as well as learning the form.
We incorporate ancient qigong exercises and teach a wide range of skills that help you to relax and gain more control over your mind, body and breathing.
Why you should join
It's so important to take charge of your own health and wellbeing as our NHS is so underfunded and desperately short of staff and resources.
Tai chi has been shown to be effective in dealing with a wide range of chronic health issues. It's even better at helping prevent them from occurring in the future.
Our classes are fun, friendly and fascinating. Everything is explained in detail so you know exactly what to do and how to do it.
Try out a free class in the new year and see what it can do for you.
I really enjoy Paul's classes. I have been going fairly regularly and have noticed changes in my body and how I move, and in particular, my balance has improved. Paul explains and demonstrates very clearly, and makes it fun.
— S Lawman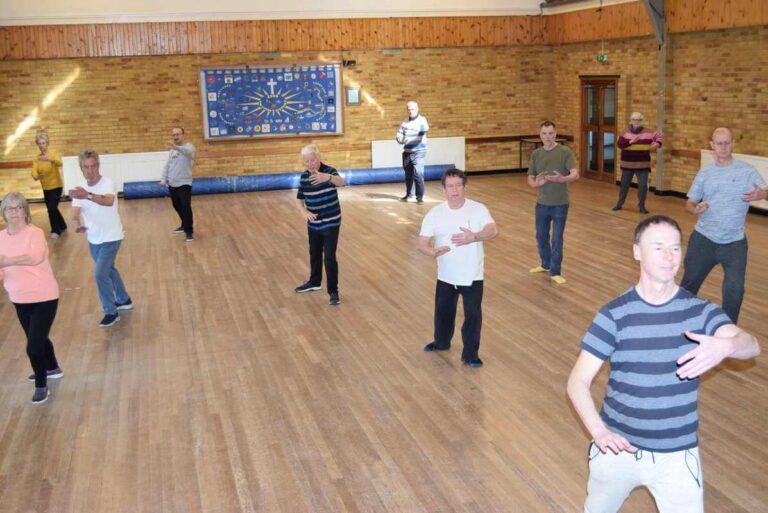 Paul is a great teacher. He explains everything so well that it's easy to understand but not necessarily easy to do. This takes practice but is so worth it. I feel so much younger and fitter now.
— Trevor R
Class Details
You can drop in to any of our classes for a free session to see if it's for you (unless the class is marked as full).
Our tai chi classes are held throughout the week at various venues in Reading and Wokingham areas.
Online class coming soon.
Click Here to see a map of our venues
---
Tai Chi Woodley
Chapel Hall, Loddon Bridge Rd, Woodley RG5 4BG
Thursdays 12pm – 12.45pm
---
Tai Chi Reading
Caversham Hall, St Johns Rd, Caversham RG4 5AN
Mondays 7.00 – 7.45pm CLASS NOW FULL
Mondays 8.00 – 8.45pm 
---
Tai Chi Twyford
Loddon Hall, Loddon Hall Rd, Twyford RG10 9JA
Tuesdays 12.00 – 12.45pm
---
Tai Chi Dunsden Green
Eye & Dunsden Village Hall, Dunsden Green, RG4 9QG
Tuesdays 10.30 – 11.15am
---
Tai Chi Wokingham
The Bradbury Centre, Wokingham RG40 1XS 
Wednesdays 4.00 – 4.45pm
---
Tai Chi Waltham St Lawrence
Neville Hall, Milley Rd, Waltham St Lawrence RG10 0JP
Thursdays 4.00 – 4.45pm
---
Class Costs
Your first session is FREE. 
You can now book sessions in advance. Click here for our timetable or email the school.
Sessions are £8 each or £27 for a block of 4.
Alternatively you can pay £8 cash on the day.
---
Beginners are always made very welcome. All our classes are suitable for complete beginners.
It's a good idea to wear comfortable clothes including footwear with minimal grip or you can do it in your socks and perhaps to bring some water.  
NEW online private sessions now just £35ph
Get personal training in tai chi/qigong over Skype or Zoom. Take advantage of this reduced price today.
I only have limited spaces in my diary so move fast before I'm fully booked again.
Face to face sessions priced at £50 per hour in Reading/Wokingham areas.
Learn Tai Chi from home
Learn the forms, skills, principles and exercises from home with our home based course.
Just £7 per module. Below is a video taken from one of the modules.
Find out more about how tai chi and qigong can help restore your health and improve your strength, balance, mobility and so much more.

Receive little known secrets of how to improve your body, mind, posture and breathing as well as the more spiritual aspects of the art.
Sign up below. Unsubscribe at any time.
Tai Chi and Kung Fu classes in Reading and Wokingham area.